The Future of Robotics
Robotics is the next stage after mechanization. Mechanization requires human to operate and with that improves efficiency since one person can get more done in the same amount of time. Robotics is to remove human or to be able to operate with less human intervention. That way, human can be deployed in areas where robotics are still facing major problems in autonomous operations.
Butler Robot
This E2 robot is designed to be autonomous. It is to reduce human requirements for simple mundance tasks such as delivery of toilet papers, towels, mineral water bottles, food and other items to hotel guests' rooms. While most room deliveries are done in the evening and night, during the day, E2 can double up to guide guests to their rooms, guide them to the lift lobby, toilets, eateries etc. It can also mingle within the lobby to distribute sweets, souvenirs, brochures and other travel information or promoting of hotel facilities. This way, the robot will free human for other more important tasks.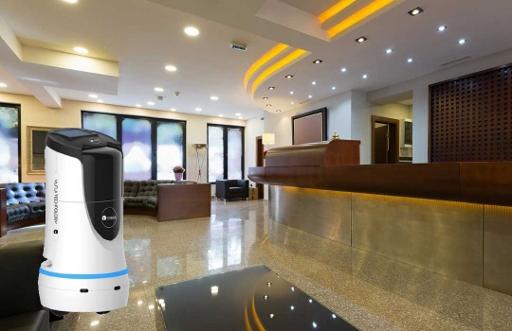 Standing 90cm tall, it's a favourite among children as well as adults. When children and parents find it interesting and that it improves service response time, your hotel ratings will improve and for each rating improvement, you get more guests and that translates into higher profitabilities.
It can also take the elevator to visit any room for delivery services. Moving at 0.7m/s, it can comfortably even guide your guests around the hotel. Being very light at 41kg, it is very safe even amongst children. It will automatically stop if there are obstacles or people and gentlely negotiate its way around obstacles. Even if children crash into it, nobody will get hurt.
With an internal compartment of 27cm depth, 22cm opening and 30cm height, it can easily store 12 bottles of of drinks as well as many other items.